Here we'll discuss an additional and significant reason why the Magic Plus-Minus buttons utilized in Folkstyle Wrestling on Trackwrestling's Live Entry Dashboard should be eliminated. We'll do this by looking at the quarterfinal match between Ian Miller vs Brian Realbuto at the 2015 NCAAs.
Down with the Magic PLUS-MINUS Buttons in Folkstyle Wrestling OR A Tale of Calamity and Destruction
The day started out innocent enough. A simple tweet about how to improve box scores in Folkstyle Wrestling. This should be harmless, this should be fine. No innocent wrestling stats geeks will be harmed during the making of the tweet. Then Jason Bryant, with his extensive background in and inclusive approach to engaging with the wrestling world, chimed in about Ian Miller and a rogue +1 thing --- and all HELL broke loose - at least in my world.
Let me explain. But first, here's Jason's tweet: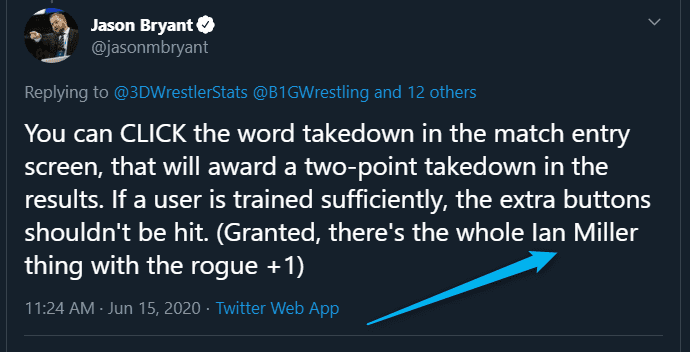 At first I had to admit that I didn't remember the details of the "Ian Miller +1" thing. Tipped off by another great mind in wrestling Britt Malinsky, the CFO, CEO, and probably a few other things at Wrestling by Pir8, I started researching.
My first thought was, I'll research that one and reply that I did some homework and then move on to reviewing the other 27 items JB mentioned in his tweets about box scores. Note: I love a challenge, so I welcome the notes from JB. First because he took the time to consider my suggestion and second because he breaks down problems to their essence and forces you to do the same for any claims you might be making or defending. So, I love the 27 other things. Also NOTE: it wasn't exactly 27, but I really like that number, and it was definitely enough to think about for a couple of days.
But then I finished watching the match ... and I was irate. Here's what happened.
The Wrestlers
What do you remember about Brian Realbuto (157 in 2014 & 2015 and 174 in 2016 & 2017) and Ian Miller (149 in 2012 and 157 in 2014, 2015 & 2016)? I didn't remember a lot of details, but loved digging into their stories. While doing this I found some footage of their wrestling matches and then loved their wrestling even more. Here's an overview and comparison of their NCAA Tournament success. I think you'll be surprised by how many similarities exist.
NCAA Tournaments Overview
| Brian Realbuto (Cornell) | Ian Miller (Kent State) |
| --- | --- |
| 3x All-American | 3x All-American |
| 4x Qualifier | 4x Qualifier |
| 3x Semi-finalist | 2x Semi-finalist |
| 1x Finalist (2015 lost by MD to Martinez) | |
| MFF to 6th in 2014 after losing to Dieringer in Semis | MFF to 6th in 2016 after losing in Sudden Victory to Martinez in Semis |
| Defeated Derek St John (the defending NCAA champion in 2014) in the Qtrs | Defeated Derek St John (the defending NCAA champion in 2014) in the Consi-Semis |
| Defeated Dylan Ness in 2015 in the Semis | Lost to Dylan Ness in 2014 in the Semis |
| 3x 2-Seed (AA'd in 2015 & 2017) | 2x 4-Seed (AA'd in 2014 & 2016) |
| Did not place in 2016 as a Junior | Did not place in 2012 as a Freshman |
| 7th seed in 2014 as a freshman, placed 6th | 7th seed in 2015 as a Junior, placed 5th |
Some additional notes:
Realbuto made two gator-bacon attempts in 2017 - both failed:

In the Semis >>> Bo Jordan countered to score a takedown & nearfall in the 3rd period to clinch the win by decision
In the Consi-Semis >>> Myles Amine countered to secure a takedown and then scored a fall

I did not analyze Miller's Gator-Bacon Rate and didn't see any in the few videos I watched
But, Miller did beat Isaac Jordan in 2014. Although Realbuto beat Bo Jordan at the Dual in 2017, he can't claim he beat someone from the Jordan family at the NCAAs
Miller also lost to James Green twice (2014 & 2015)
Miller & Realbuto only faced each other ONCE in their careers, and it was in that fated match during the 2015 NCAA Quarterfinals, you know the one with the Magic PLUS-MINUS Buttons on the official score record
NCAA Tournaments Performance Details
Here are some details about their performance by Tournament year. Both wrestlers put together a nice NCAA Tournament resume to say the least:
Overview
| Wrestler (year) | Seed | Finish | Top-Side | Wins | Losses | MD / TF / Fall | Bonus % |
| --- | --- | --- | --- | --- | --- | --- | --- |
| Ian Miller (2012) | -- | Qualifier | | 1 | 2 | - / - / 1 | 33.3% |
| Ian Miller (2014) | 4 | 4th | Semis | 4 | 2 | - / - / - | 0.0% |
| Ian Miller (2015) | 7 | 5th | Quarters | 4 | 2 | - / 1 / 1 | 33.3% |
| Ian Miller (2016) | 4 | 6th | Semis | 3 | 1 | - / - / 1 | 25.0% |
| Brian Realbuto (2014) | 7 | 6th | Semis | 3 | 1 | 1 / - / - | 25.0% |
| Brian Realbuto (2015) | 2 | 2nd | Finalist | 4 | 1 | 1 / 1 / - | 40.0% |
| Brian Realbuto (2016) | 2 | Qualifier | | 0 | 2 | - / - / - | 0.0% |
| Brian Realbuto (2017) | 2 | 5th | Semis | 4 | 2 | - / 2 / 2 | 66.7% |
Detailed Performance #s
| Wrestler | Seed | Finish | Match Points* | MPER | TD-XoF | TD % | Opp. TD % |
| --- | --- | --- | --- | --- | --- | --- | --- |
| Ian Miller (2012) | -- | Qualifier | 13-21 | 0.382 | 5-10 | 0.500 | 0.500 |
| Ian Miller (2014) | 4 | 4th | 37-35 | 0.514 | 12-25 | 0.480 | 0.240 |
| Ian Miller (2015) | 7 | 5th | 58-41 | 0.586 | 21-38 | 0.553 | 0.211 |
| Ian Miller (2016) | 4 | 6th | 22-14 | 0.611 | 9-16 | 0.563 | 0.125 |
| Brian Realbuto (2014) | 7 | 6th | 31-15 | 0.674 | 7-18 | 0.389 | 0.167 |
| Brian Realbuto (2015) | 2 | 2nd | 45-21 | 0.682 | 9-19 | 0.474 | 0.316 |
| Brian Realbuto (2016) | 2 | Qualifier | 9-13 | 0.409 | 3-10 | 0.300 | 0.400 |
| Brian Realbuto (2017) | 2 | 5th | 50-23 | 0.685 | 9-16 | 0.563 | 0.250 |
*Includes MP from matches ending in a fall or injury
The Scorecard
At first it looked innocent enough. I thought Britt had mentioned nearfall, so the +2 at the end of regulation just needed to be re-coded from +2 to N2, right? This is a huge pain in and of itself, especially if you want to move stats forward in a meaningful way, but not harmful to the outcome of the match ... or so I thought.
The +2 entry error occurred at the end of regulation forcing the match to go to overtime. So, I thought maybe the tide had turned and Miller faded at the end of the match. They just pushed the wrong button. Well, they did much more than that as you'll see below.
The Video
Then I moved to the video Britt had shared so that I could confirm the scorecard. When I compare video to scorecards, and I do this quite frequently, I start at the beginning. I start at the beginning not just because I don't trust the process, which I don't, but also because it's fun to the review the full match, its action and to confirm the flow of the scoring step-by-step. I skip forward for longer sequences without a scoring change, but I follow the entire match.
And, every thing is fine through the first 2 3/4 periods. Then we get to the final 30 seconds and the Missing E1, which changed the score significantly in regulation.
Here two Screen grabs from the video where Realbuto releases Miller for an escape that wasn't put on the score sheet (note that the score remains at 8 for Miller before and after the escape sequence)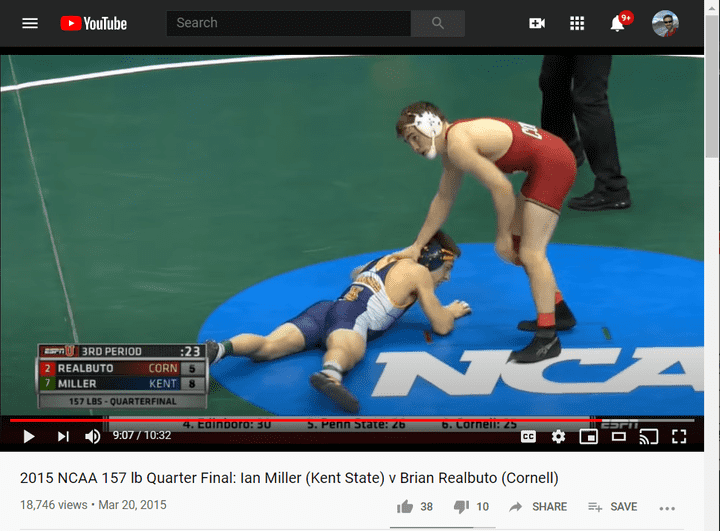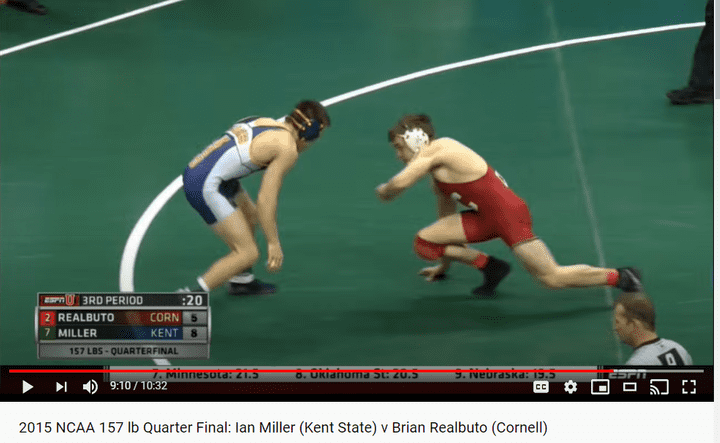 The Set-Up
Towards the end of the 3rd period I watched and re-watched the flow of action. Realbuto truly does come on strong at the end and starts to turn the tide. He gets a late escape, followed by a quick takedown. This in and of itself is a significant development in the match because Miller had scored three takedowns to Realbuto's none up to that point. So, we're sitting at 8-7 in favor of Miller and Miller has locked up Riding Time, so it's essentially 9-7 at this point.
With about 25 seconds to go, Realbuto has to turn Miller for 2pt nearfall to tie or score a 3pt nearfall to win. If, he cuts him, that would move the score to 10-7 and Realbuto would have to take Miller down directly to his back and score nearfall to win, or force a stall call against Miller and score a takedown to tie.
No problem says Realbuto & he opts for the 2nd choice, trying to take down Miller to his back or getting a stall call then the takedown.
The Sting - And This Truly Hurts
Here's what happened:
Realbuto lets Miller up
The Announcer sees the Ref signal for the escape (E1)
The Table Help --- misses it or forgets to click the Escape link
This is not recorded on the score sheet
SCORE: still 8-7
SHOULD BE: changed to 9-7 for Miller b/c of the missing E1 (remember that Miller also has Riding Time)
Then what happened:
Realbuto gets a takedown
NOTE: Realbuto got the takedown fairly quickly and so I would argue the refs didn't have enough time to call the 2nd stall call against Miller
They are on the edge near the score clock
Both wrestlers are looking at the scoreboard for about 5 seconds
Then it looks like Realbuto has an "Oh-Shit, I needed Nearfall" moment with 1 second left and tries to turn Miller to his back with a turk (1st part is my interpretation of course)
Miller's like, dude times up, why you turk'n my head off (also my interpretation)
Time expires
SCORE: 9-9, because RT added for Miller & +2 added for Realbuto, the missing E1 was not noticed by refs or scorers table
SCORE SHOULD BE: 10-9 for Miller because of the missing E1 and the RT and the T2 for Realbuto. A much closer match than Miller should have had as he did fade a bit at the end, but he pulled it off.
Here you see both wrestlers staring at the clock right before Realbuto's turk. They looked at it for about 5 seconds. If the score had been 9-9, Realbuto probably would have pushed for the Nearfall points he needed to win the match. In his Finals interview Realbuto said he would have wrestled differently if the scoreboard had been correct, meaning if the E1 had been put up when Miller scored it. And, based on his reaction at the end and having watched wrestlers in similar situations, I'd say he might have an argument.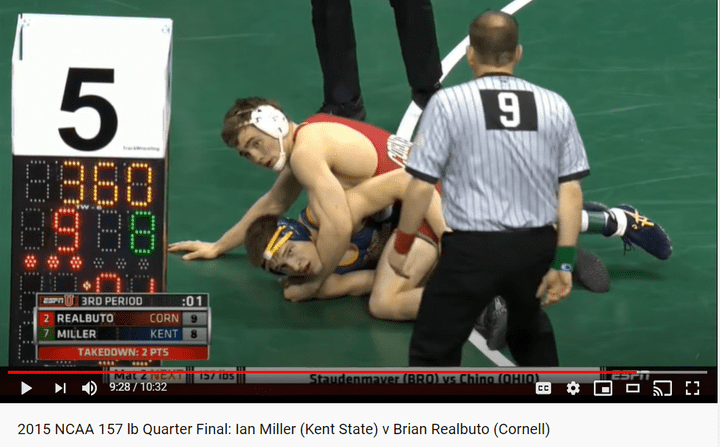 Did Miller Get Screwed
What happens after the final 3rd period whistle is a reminder of what coaches across the country and probably throughout the world tell their wrestlers on the regular - keep wrestling until it's over.
You see Miller waiting at the edge, a bit tired, but also anticipating a win (I believe)
Realbuto runs back to the center and gets ready for overtime
Both Refs hustle to the scorers table to confirm things
The refs don't spend much time at the scorers table and return quickly to their positions to get ready for overtime
Per Wrestling By Pir8, the Kent State coaches are held back by the ref and not allowed to "grab and then wave the challenge flag"
Miller gets up slowly and walks back to the center slowly
Miller looks deflated in overtime and Realbuto attacks aggressively for a quick takedown and the sudden victory win
The additional things coaches say. I may have heard Jordan Burroughs say it first, but he's not the only one to mention this type of sentiment:
You have to plan on winning a match 2 or even 3 times b/c crazy things happen all the time in matches
So, you can't fault Realbuto for going strong in the sudden victory (SV) period. And you have to raise the question -- did Miller have the additional mental or physical gas tank he needed to win this specific match on that day "a 2nd time" in SV.
At the same time, those Magic Plus-Minus buttons in Folkstyle probably played a factor here.
Here's the screen grab from the video as the wrestlers head into the Sudden Victory Period - Miller walking back to the center slowly after getting up slowly. Realbuto ready to go: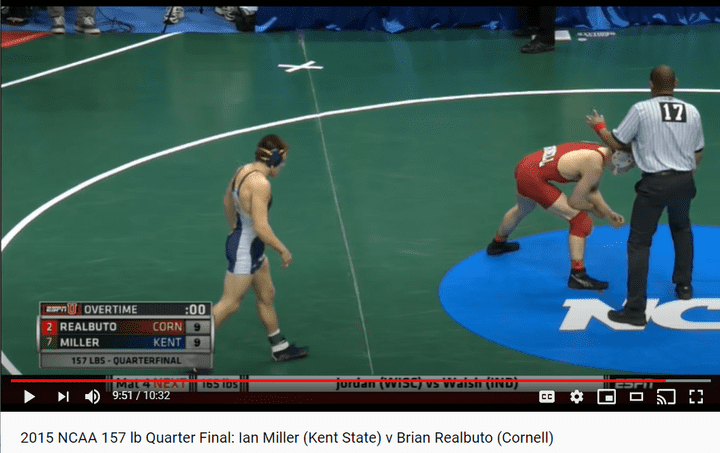 Here's what I think went through the Refs Minds
As they looked at the score, they probably went through a mental checklist, such as:
Did they score the last takedown -- they scored it as a +2, but no biggie
Did they score the Riding Time point (RT) -- yes it's there
Then we must be tied
Let's Wrestle
What Could Have Happened in the Refs Minds if the Scoring were Correct
If the scoring had been done correctly EXCEPT for the missing E1, here's what might have happened in those split seconds of decision making:
Ref: we got the T2 Realbuto at 30 seconds
Ref: we got another T2 for Realbuto with short time remaining
Ref: Wait, a wrestler can't get 2 takedowns in a row without ...
Table Help: Oh Shit -- we forgot to record the escape (E1) point
Here's a view of the Score sheet with rough notes about the changes needed in the 3rd period.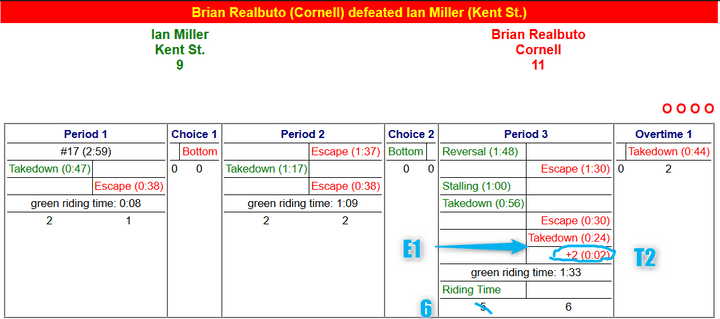 Hypothetical SCORE: 10-9 decision for Miller b/c of the correction by table help to add missing escape (E1) point
There has been a lot written about how humans make split second decisions. What triggers their mind to think a certain way and how people come to certain conclusions. I'm not an expert, but believe, based on what I've read, that the +2 in place of the T2 could have sent the table help and the referee's brains down a path, where they didn't think they needed to check for proper sequencing.
If the T2, followed by another T2 was on the scores sheet, folks might have recognized the issue and corrected the problem right then and there. This is naturally just my opinion, but ... I don't think many would argue that the E1 was missed, including the ESPN announcers who called the finals.
A Reminder About the History
I chatted with Britt Malinsky from Wrestling by Pir8 about the match and some of the details. He filled me in on this additional insight:
There's actually a bit more to that: The Kent State coaching staff filed a protest with the NCAA Wrestling Championships Committee over that match, and was told that because they didn't challenge at the time, they couldn't protest. Again, the Kent State coaching staff was physically kept away from the flags at the scorers table, so they couldn't challenge. (at the time, they had the flags at the scorers table, rather than the foam bricks we have now)
Was It Fate
When we played bucket or 21 on the playground as kids, we often would say things like this after someone lost the ball out of bounds or missed a shot:
That's the gods of playground ball dishing out justice >>> you forgot to call your foul on that last play
So, while I believe Ian Miller should have been awarded the victory, I also think there is some truth to the fact that Realbuto may have wrestled differently if the E1 had been scored at the appropriate time. So, maybe Sudden Victory was a just call in the grand scheme of things. And, in that split second of time, Realbuto took advantage of the moment. I wouldn't wish it upon anybody, but you have to be super impressed with how these wrestlers performed throughout their careers. They didn't let it become a defining moment. How they performed and carried themselves thereafter let their true character show through and that's impressive.
What If Tommy Boy Were On the Whistle That Day
And one final note on those Magic PLUS-MINUS Buttons and doing away with them for Folkstyle wrestling. It reminds me of Tommy Boy's question about his inheritance and ownership of his company: Callahan Auto at the end of the movie. He was claiming he deserved to inherit Callahan Auto instead of his step mother.
| Situation | Speaker | What They Said |
| --- | --- | --- |
| Tommy Boy in Zalinsky Board Room | Tommy | Richard: How could Beverly be married to Paul and my dad at the same time? |
| Miller-Realbuto match | Referee | Table Help, how could Brian get 2 Takedowns in a row, while Ian scored no points? |
| | | |
| Both | Fans Everywhere | hmmm, interesting question |
| | | |
| Tommy Boy in Zalinsky Board Room | Tommy | Well, i think it means that your marriage to my dad was never legal. |
| Miller-Realbuto match | Referee | We messed up somewhere, let's take 10-15 seconds to confirm things |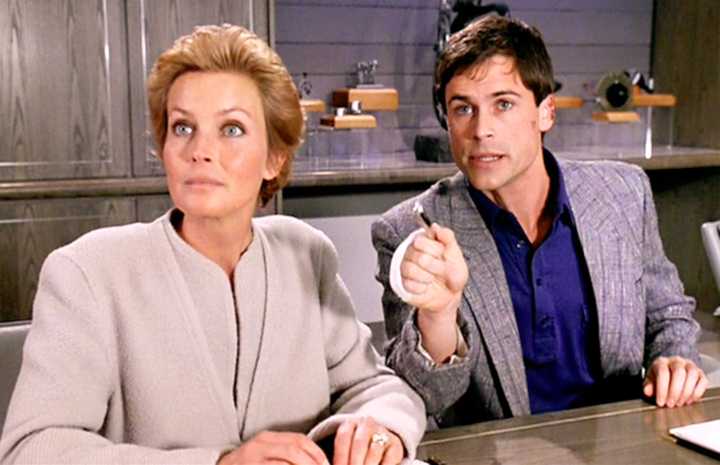 Don't Forget --- Submit That Ticket to Trackwrestling
As for me, a stat nerd ...
Anytime I see one of those magic plus-minus buttons clicked in Folkstyle wrestling, I think: Who in the Hell clicked +2 --- there must be a problem here. Let's investigate and confirm.
But, that's just me as a stat nerd. For the rest of normal humans without this nervous tick, please help by submitting a ticket to Trackwrestling to Get Rid of the Magic Plus-Minus Buttons.
Here's The Problem with Trackwrestling's Live Entry Dashboard
Please note that we at 3DWS love Trackwrestling and the amazing things they've done for our sport. We also know that the Trackwrestling Live Entry Dashboard needs some work. Most importantly: they need to remove the +1, -1, +2, -2, +3, -3 buttons (the Magic PLUS-MINUS buttons as I call them) from the Live Entry dashboard for Folkstyle. Every point scored in Folkstyle wrestling has a purpose and should be noted as such. Points entered in error should be changed to the correct points or removed based on the referee's decision.
Submit a Ticket
Please let Trackwrestling know by submitting a ticket requesting this:
Remove the +1, +2, +3, etc. and the -1, -2, -3, etc. buttons from the Folkstyle Live Entry Dashboard. Every point in Folkstyle has an action tied to it, e.g., T2 (takedown 2 pts), N3 (nearfall 3 pts), P1 (penalty 1 pt). Letting table help use +1, +2, -1, -2 in Folkstyle ruins the history of the match and makes the match action record useless. Please remove these buttons from the TrackWrestling Live Entry Dashboard.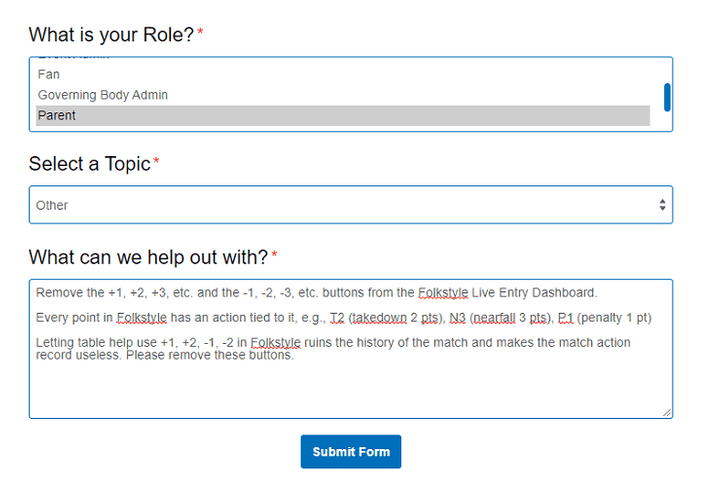 Trackwrestling Ticket Submission Form - Please Help
Trackwrestling Live Entry Dashboard with Magic Plus-Minus Buttons
Here's an image of the dashboard. They may not look "prominent" here, but table help at all levels of wrestling, yes, including ALL NCAA Levels, love to click those Magic PLUS-MINUS buttons. Why are they magic you ask. They appear out of nowhere and no one knows how they appeared. Let's eliminate them.
And I can't think of a reason why those options are needed at all in Folkstyle Wrestling ...