Now it's time to switch gears. How to build a better folkstyle wrestling box score. I took a real example from the 2019-20 season. Some may remember the Penn State vs Iowa dual at Carver Hawkeye arena on January 31st 2020. Here's a look at the Overview Box Score I'd love to see utilized in Folkstyle Wrestling.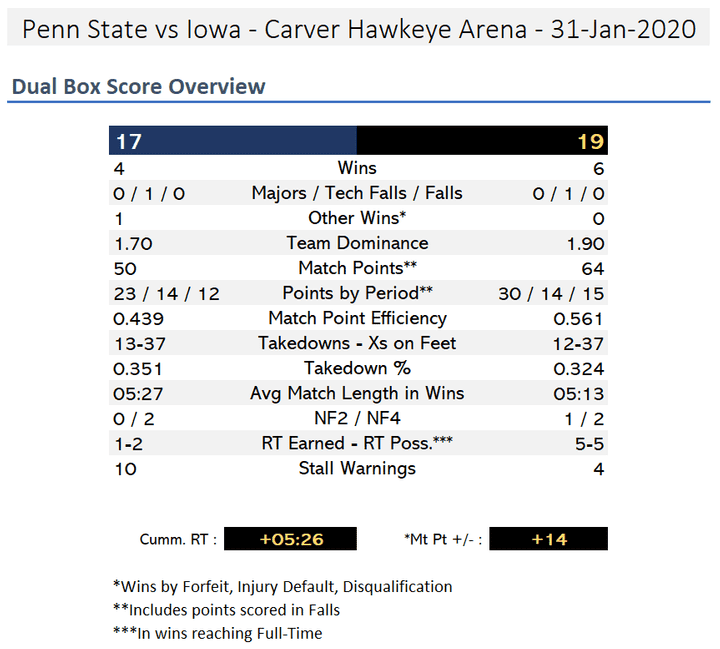 Improved Wrestling Box Scores
In this post we'll look at a new and improved Wrestling Box Score Overview (image above) and a small tweak to the existing Match-by-Match Wrestling Box Score. We believe this combo presents a much richer view of team performance. The Overview Stats would be a nice enhancement to team tournament summaries as well.
We'll take look at what stats we'd love to see for each wrestler in a subsequent post.
The Wrestling Box Score Overview
The main additions to the Wrestling Box Score Overview are performance related comparisons. There's a few reasons for these additions:
This is typical in other sports such as football or basketball
Performance comparisons tell a rich part of the story of each team's dual meet performance

why did a team win
where did each team excel
how close was the losing team

The stats are readily available in today's live entry software (if utilized correctly)
Also note that the same type of data points could easily be compiled for teams at tournaments.
| Box Score Overview Item | Why We Love This Stat |
| --- | --- |
| Dual Pts | The main outcome of a Dual Meet |
| Wins | What led to the dual meet outcome? |
| Bonus Wins by Type | Which team won the bonus pt battle, shows MD / TF / Falls |
| Other Wins | How many other wins happened, Injuries, Forfeits, DQs |
| Team Dominance | Translating the team's wins to a Dominance Rating |
| Points by Period* | Which team scored more points and in which period |
| Match Point Efficiency | Who won the match point battle |
| Takedowns - Xs on Feet | This is a go-to stat for me |
| Takedown % | Translates the Xs on Ft to TD into a ratio |
| Avg Match Length in Wins | This could be called the Spencer Lee stat, but is of Note |
| NF2 / NF4 | These key indicators can be a difference in a match |
| RT Earned - RT Poss. | Always good to know |
| Stall Warnings | Another interesting stat that tells part of the story |
| *Cumm. RT | Shows who won the control game on top & by how much |
| *Match Point +/- | Shows who won the scoring game (including pins) |
NOTE: made a choice in this version to show these numbers only once for the team that who won the day, since the absolute value is the same for both teams. Also NOTE: these two categories are tallied even for matches that ended early by Tech Fall or Fall. Why? Not just because we have the data, but because these elements tell a story that's part of the team's performance at the dual.
Here's the improved Wrestling Dual Meet Box Score Overview again for review.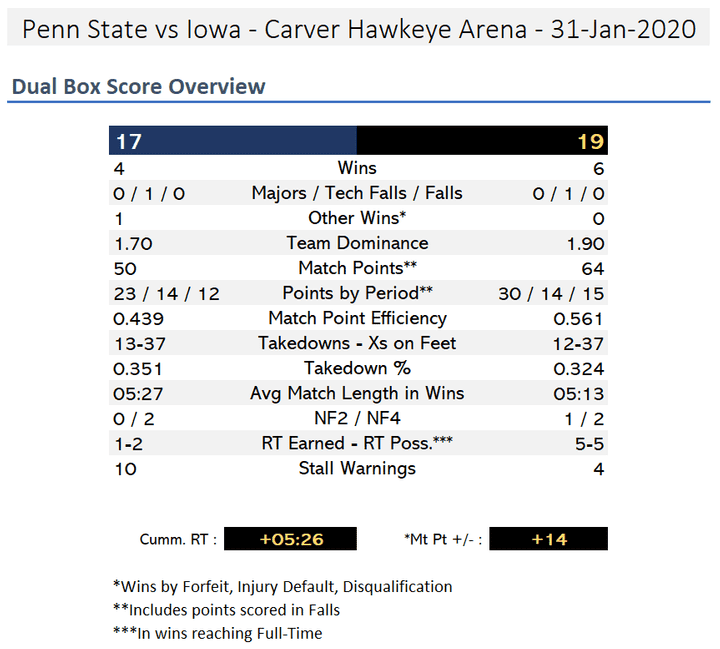 The Wrestling Box Score Details or Match-by-Match Overview
Existing wrestling match-by-match box scores when displayed in table format are great. I made one tweak to show the cumulative score as it would be evolve throughout the dual. This assumes the Box Score Match-by-Match table would always start with the dual's starting weight.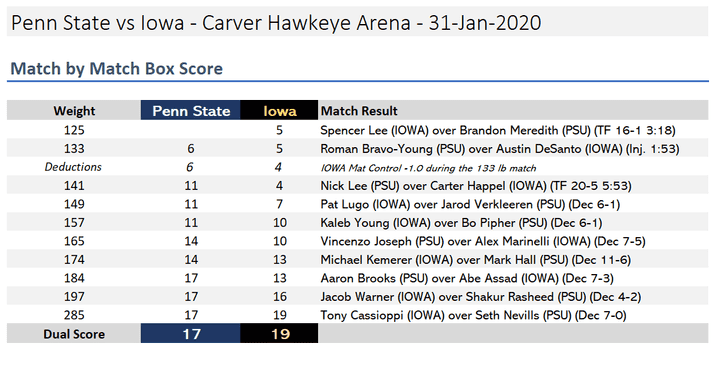 Current Wrestling Box Scores
Now back to the current Folkstyle Wrestling box score. Here are two typical wrestling box score examples. This is excellent, but as described and shown above, we can do more!
Box Score on Trackwrestling's OPC Page

Box Score Style used by Flowrestling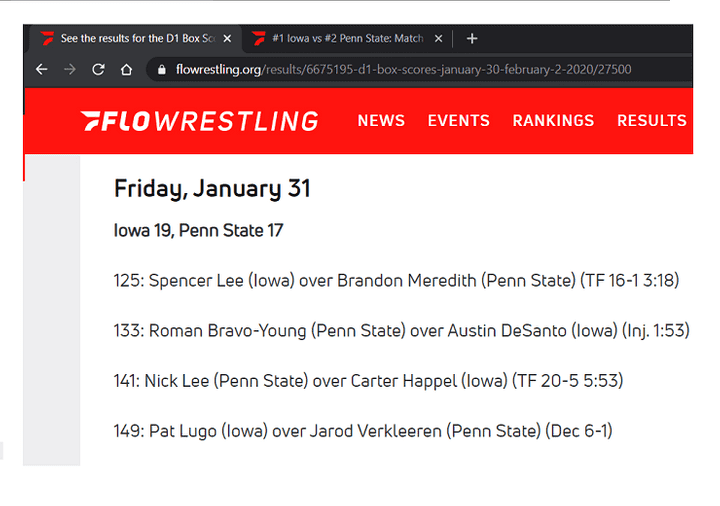 Challenges to Getting There
There is one major challenge in our way that we've talked about in past articles. This relates to the fact that Trackwrestling allows table help to enter +1 and +2 instead of E1 and T2.
Trackwrestling's Live Entry dashboard. This is a great tool offered to teams for Dual Meets as part of the OPC, but ... it has one major drawback.
Here's The Problem with Trackwrestling's Live Entry Dashboard
Please note that we at 3DWS love Trackwrestling and the amazing things they've done for our sport. We also know that the Trackwrestling Live Entry Dashboard needs some work. Most importantly: they need to remove the +1, -1, +2, -2, +3, -3 buttons from the Live Entry dashboard for Folkstyle. Every point scored in Folkstyle wrestling has a purpose and should be noted as such. Points entered in error should be changed to the correct points or removed based on the referee's decision.
Submit a Ticket
Please let Trackwrestling know by submitting a ticket requesting this:
Remove the +1, +2, +3, etc. and the -1, -2, -3, etc. buttons from the Folkstyle Live Entry Dashboard. Every point in Folkstyle has an action tied to it, e.g., T2 (takedown 2 pts), N3 (nearfall 3 pts), P1 (penalty 1 pt). Letting table help use +1, +2, -1, -2 in Folkstyle ruins the history of the match and makes the match action record useless. Please remove these buttons from the TrackWrestling Live Entry Dashboard.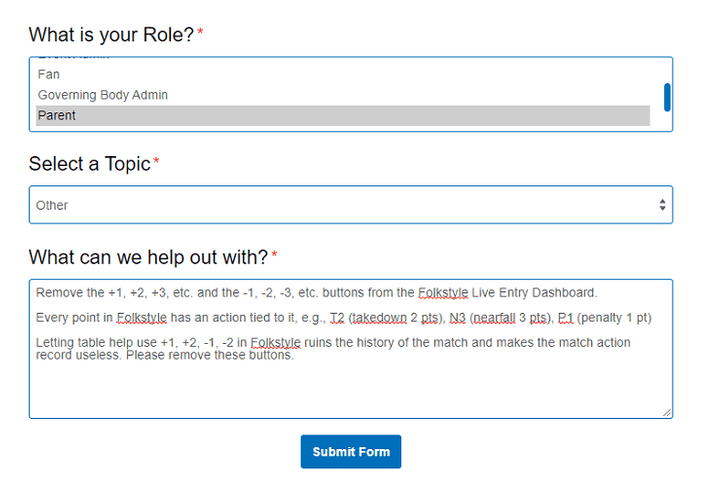 Trackwrestling Ticket Submission Form - Please Help
Trackwrestling Live Entry Dashboard
Here's an image of the dashboard. They may not look "prominent" here, but table help at all levels of wrestling, yes, including ALL NCAA Levels, love to click those -1, +1, -2, +2 buttons.
And I can't think of a reason why those options are needed at all in Folkstyle Wrestling ...