After an exhilarating weekend at the 2020 ncaa wrestling conference tournaments, where do we stand in the Hodge Race? We also wanted to know dig into that question.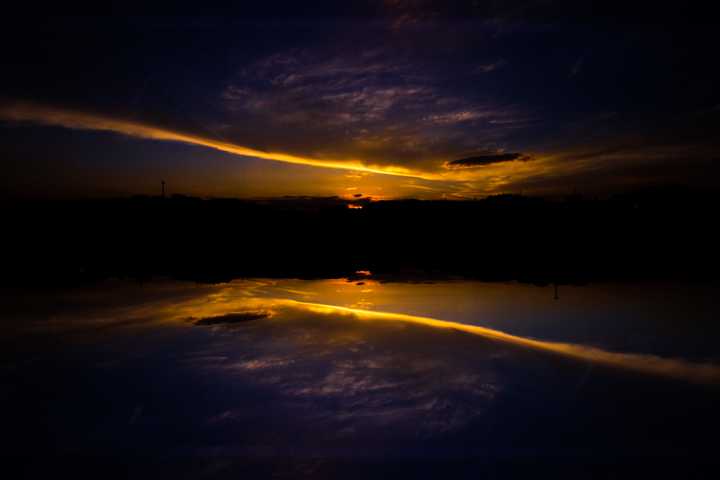 Photo by André Noboa - A Mirrored Sunset on Unsplash
Could We See a Hodge Finalists with 1 Loss
The Hodge Criteria
The Hodge Criteria per WIN-Magazine, includes: wrestler's record, number of pins, dominance on the mat, past credentials, quality of competition, sportsmanship/citizenship and heart.
The Hodge Criteria in Numbers - Hodge Contender Rating (HCR)
At 3DWS we've created a Hodge Contender Rating (HCR), which analyzes the WIN Magazine criteria in numbers and predicts the top 4, i.e., the hodge finalists, and the order in which they would end up in voting.
This week we're taking two views of the world
one where the committee only considers undefeated wrestlers
the other where the committee may consider wrestlers with a single loss on the season
See the two screenshots below.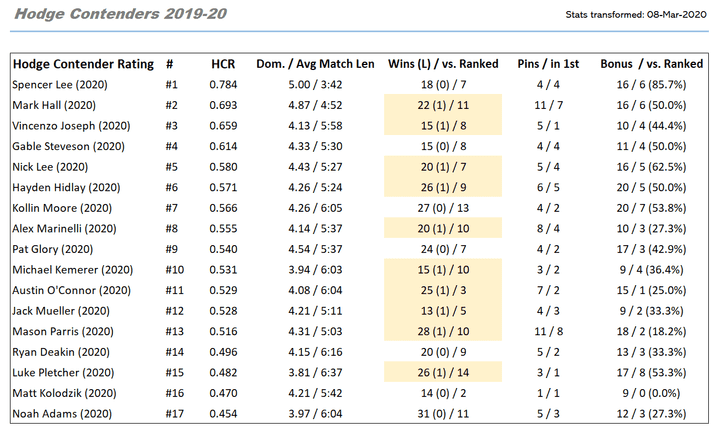 Some History - You Can be a Hodge Finalist with a Loss
As those following the sport will easily remember - Seth Gross, 133 lbs, SDSU, was a finalist in 2018 with 1 loss. That loss was not at his championship weight class, so the Hodge Committee at WIN-Magazine, like the NCAA Seeding committee, did not consider the loss.
If we go back to 2013 though, there were 5 Hodge Trophy Finalists, with 3 of the finalists having one loss each:
Ed Ruth - lost in a 7-4 decision to Gabe Dean, Cornell at the Southern Scuffle
Chris Perry - lost in a 4-2 decsion to Andrew Howe, Oklahoma at the Bedlam Dual
Alex Dieringer - lost in a 2-1 decision to Derek St John, Iowa at the Dual, by Tony Hager
If we go back to 2012, there were 6 Hodge Trophy Finalists, 2 of whom had one loss each:
Matt McDonough, Iowa >>> overtime decision to Jesse Delgado, Illinois
Cam Simaz, Cornell >>> loss by Default to Malo, Virginia according to WrestlingStats
If we go back to 2008, there were 7 Hodge Trophy Finalists, 5 of whom had one loss each, including the Hodge Trophy winner Brent Metcalf.
Per the 3DWS Rating System, There's a Chance we Could See a Finalist with 1 Loss
While you may not agree with the order our number crunching spits out, I hope you can see that there could be an argument for a finalist with 1 loss or even adding a 5th finalist, one of whom has 1 loss.
Let's just look at one possible scenario (of many). Let's assume Spencer, Gable, Kollin and Ryan Deakin all win out and so does Mark Hall. I think Spencer will be a clear favorite, as the 3DWS HCR also indicates. But let's compare Mark Hall to the anticipated undefeated finalists:
If we compare Mark to Ryan, Gable, and Kollin, with one note on Spencer Lee:
Mark has more pins
Mark has better past credentials
Mark's bonus percentage is similar to that of the 3 undefeated wrestlers
Mark's bonus rate against ranked opponents (quality of competition) also betters or is more or less equal to the 3 undefeated wrestlers
Was Mark more dominant on the mat? Per his current Dominance rating of 4.87, he's better than the other 3 anticipated finalists
In this group, only Spencer has a higher Dominance rating and given Spencer's ability to out-score and shut-down his opponents (scoring 92.7% of the match points, 228 to his opponents 18), I'd say he's still a clear favorite despite Mark having more pins
In Short, we're hoping for a great NCAA D1 Wrestling Championships and would potentially advocate for a Hodge Trophy Finalist with 1 Loss.
Hodge Trophy and Ratings in the Grand Scheme
Given the state of affairs and major concerns facing our nation and the world with the COVID-19 pandemic, here's to hoping our great NCAA wrestlers, their families, coaches and support staff members stay safe.
That's not to say that I don't want to see the NCAA Championships. I also assume that the wrestlers themselves would love to cap off their season and even their careers by competing at the NCAA Wrestling Championships next week, despite the fans not being able to attend. And so I hope it is still possible to make this happen next week while maintaining the necessary safety.
Parting Thoughts
While we wrote extensively about the potential finalists, I would like to make clear that the true front-runner from our perspective is still Spencer Lee. Despite his limited number of pins, he is changing wrestling for the better, an innovator in every sense of the word, has an impressive set of past credentials and assuming he runs the table in dominating fashion at the big show, is our clear favorite.
We'll have our 3DWS Stats updated to include the conference championships and some of the new contenders we've added into the mix by the end of this weekend. In the meantime, you can check out their numbers through the end of the regular season.