We're excited to start reporting out on the 2020 Hodge contenders. We've added in a predictive model that directly analyzes each wrestler's chances to win the hodge trophy, of course, we've kept all the great performance stats.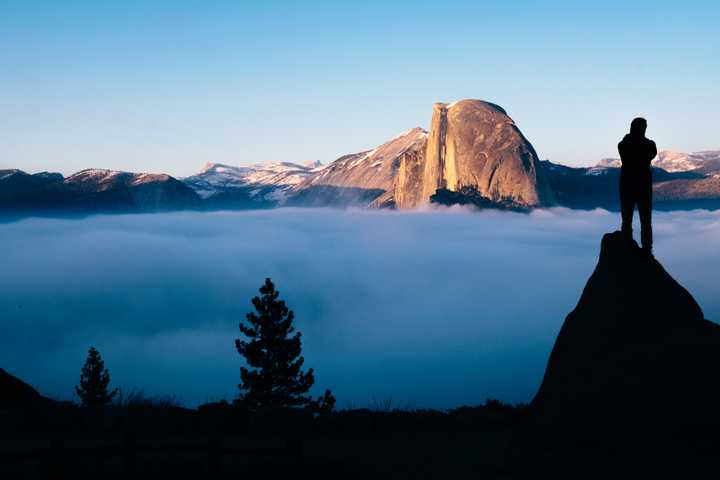 Photo by John Gibbons - A View of the Clouds on Unsplash
2020 Mid-season Hodge Report
The Starting Point
First, we've added in a predictive model to our Hodge Stats Analytics Page -- the Hodge Contender Rating (HCR), to show where we believe the analyzed wrestlers would end up at in end-of-season voting. While the voters occasionally favor one hodge criterion over another for the Hodge Finalists, this predictive model correctly predicts the winner in each of the previous 4 seasons and generally picks the runner-up as well (2017 is an exception thanks to the encyclopedia of wrestling - Jason Nolf - who landed in 4th among finalists, but had insane numbers).
Second - why did we analyze the wrestlers we analyzed? We selected the top 5 wrestlers in the following pound-for-pound (P4P) rankings, adding in Luke Pletcher for good measure (he was ranked 7th in Nomad's Pre-CKLV Hodge Rankings).
We also looked at this hodge watch list by Scott Baker via Vendetta Sports Media, which places Austin Desanto at #2 and Spencer Lee at #5.
The Hodge Criteria
The Vendetta article is where we believe some confusion about predicting a hodge winner can start. The Hodge Criteria per WIN Magazine, includes: wrestler's record, number of pins, dominance on the mat, past credentials, quality of competition, sportsmanship/citizenship and heart.
While heart and citizenship and sportsmanship are hard to analyze in statistical models, e.g., how many times did Jason Nolf carefully place his ankle bands on the mat after a match, or how many times did Bo Nickal help up a devastated opponent, the rest can be converted into hard and fast numbers, which we like.
The Contenders
In addition to the eight wrestlers listed here and on our Hodge Stats Page, we also analyzed Luke Pletcher, Patrick Glory, and Austin Desanto's performance. They landed in positions 9, 10, and 11 in our Hodge Contender Rating, respectively.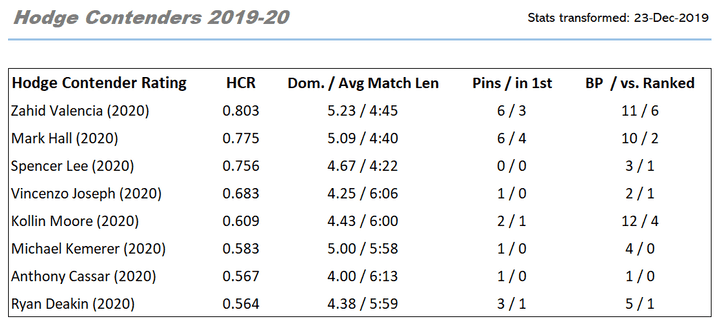 The Analysis
Based on the data analytics we ran, here are the aspects that pushed some to the top of the running and others towards the bottom of the race or out of contention entirely ... for now. We say for now, given that several wrestlers have hit the NCAA mats 5 times or less, a few of the wrestlers will likely face each other this year before NCAAs, and naturally because, as we all know about wrestling, anything can happen in an NCAA DI Wrestling Season:
Lee, Desanto & Pletcher have not pinned anyone yet this year, a primary Hodge criterion
Desanto, who is wrestling with renewed energy and hasn't given up a takedown this season (there's also over a 95% chance he'll take you down), does not bring the past credentials others have. Continued dominance and success against ranked opponents could naturally propel him towards the front
Kemerer is a wrestling force this year and #2 on our overall rating just behind Mark Hall, but he hasn't faced a ranked opponent yet this season. He's a solid contender and makes the challenge for either he or Mark Hall to be nominated as a finalist very real.
Spencer Lee's impressive resume and the fact that he rarely wrestles into the 3rd period puts him right on Zahid & Mark's heels. Given that he's only wrestled 3 matches this season, but is scoring an impressive 26.18 points per 7 minutes wrestled, we're pretty sure Spencer will continue to have a say in this race
Zahid is looking awesome and our front-runner from an HCR perspective (including a 50% pin rate in matches wrestled), but with S. Lee & Mark Hall both lighting it up this season, he'll have to continue his impressive work to stay in the lead
All in all this looks to be an exciting race and we get to enjoy the ride as these monsters of the mat compete this season.
Check out Hodge Stats Analytics Page for full details. We also have a detailed 3DWS Scorecard available for each of the top 4 contenders.
---
Charts Supporting this Article