It's mid February, 2020, and the wrestling dual season continues to impress. Have the match results shed any light on how the Hodge race will play out? How has the highs and lows of dual meets impacted the 2020 Hodge contenders.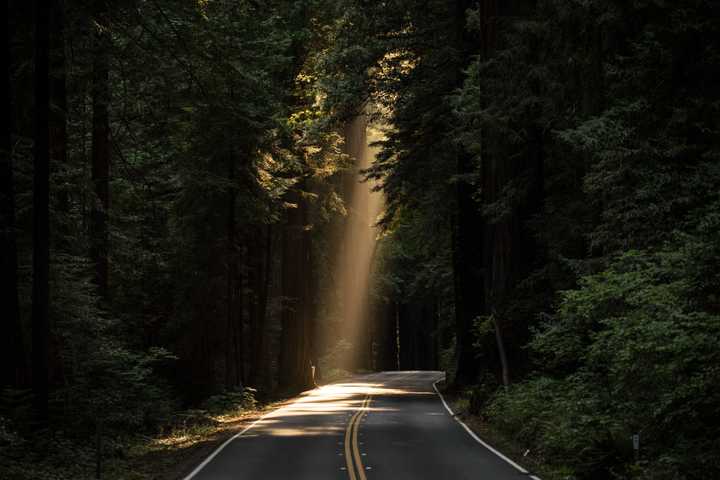 Photo by John Towner - Pillar of Sunlight on Unsplash
2020 Mid February Hodge Contenders Review
The Hodge Criteria
The Hodge Criteria per WIN-Magazine, includes: wrestler's record, number of pins, dominance on the mat, past credentials, quality of competition, sportsmanship/citizenship and heart.
The Hodge Criteria in Numbers - Hodge Contender Rating (HCR)
At 3DWS we've created a Hodge Contender Rating (HCR), which analyzes the WIN Magazine criteria in numbers and predicts the top 4, i.e., the hodge finalists, and the order in which they would end up in voting.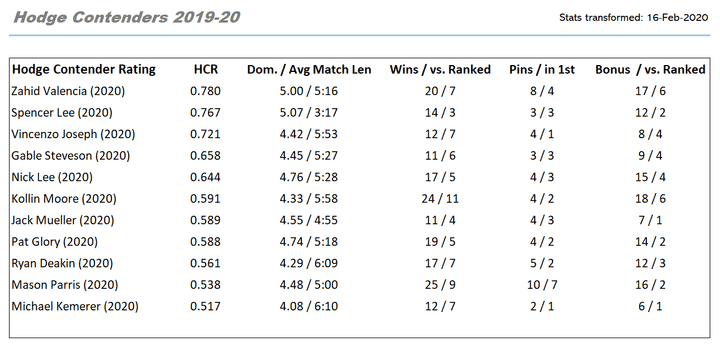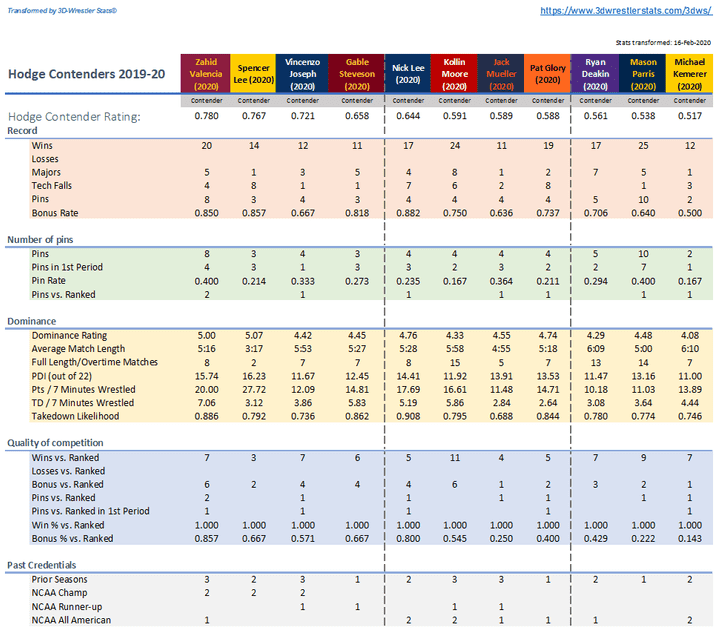 No Changes in the Top 5
Nick Lee was already the 5th Contender per our scale and with his impressive win over Luke Pletcher, he remains in that spot. The Others in the top 5, Gable, Vincenzo, Spencer, and Zahid remain the top four and most likely Hodge Finalists per the numbers at this point.
Kollin Moore Continues to Impress
By notching his 6th bonus victory in his 11 bouts against ranked opponents, Kollin Moore rose 2 spots and surpassed the idle Glory and Mueller. He continues to impress on his feet, with 5.86 takedowns per 7 minutes wrestled and almost an 80% chance he'll take his opponents down. Also not bad at scoring with 16.6 points scored per 7 minutes wrestled.
Most Anticipated Matches / Rematches
With some significant opponents at multiple weights (174, 165, and 141) as well as 3 wrestlers in contention at 125 lbs and 2 at Heavyweight, here are some match-ups I'm sure most would love to see multiple times:
Jack Mueller vs Pat Glory
Jack Mueller vs Spencer Lee
Spencer Lee vs Pat Glory
Mason Parris vs Gable Steveson
Re-match: Nick Lee vs Luke Pletcher
Re-match: Vincenzo Joseph vs Alex Marinelli
Re-match: Michael Kemmerer vs Mark Hall
My Most Anticipated Match-up
125 lbs Could be Fireworks
As is the general consensus, don't bet against Spencer in March, but I'm sure either Glory or Mueller are going to be more prepared for the challenge this year. Also -- I imagine there will be fireworks if/when Glory and Mueller meet. So I'll definitely be looking forward to these matches.
Re-matches are Going to be Cool
The re-matches mentioned above will be awesome. But, since I've seen them at least once, though epic, these are not my most anticipated matches. And, for me, I give the slight edge to the initial winners, N. Lee, Joseph, and Kemmerer, but wouldn't rule anything out with the studs wrestling here.
But, I've Got to Go with the Heavyweights
That leaves Steveson vs Parris, which is my most anticipated match-up. Maybe this is because I haven't seen the match-up in college, but it's also because both are wrestling tremendously well right now. Gable focuses a lot on takedowns, and for good reason as he hasn't given up a takedown yet this season, earning 50 in 58 attempts. But, Mason is also a beast on his feet, having only given up 1 takedown in 84 times on his feet. Mason has scored 65 takedowns in those 84 attempts himself.
Will Jamarcus Grant of Oregon State be the Lone Ranger
Of Note: the lone takedown Mason gave up was against Jamarcus Grant from Oregon State, who Mason went on to major 15-5 (Michigan fans may remember that 21-15 home loss to Oregon State).
So what happened to Parris on that exchange. It's worth remembering: Grant took a sweet shot from space to a duck-double position where he was able to go behind Parris. Parris quickly countered the shot by getting to his feet - no takedown yet. Grant then worked from a behind to try and get a mat return. Then it happened --- Parris gave up a non-reaction time, 1-handed-touch takedown, after which Mason promptly escaped and proceeded to blast double Jamarcus out of bounds. They returned to center on their feet and Mason ankle picked Jamarcus shortly after the re-start. You can view the exchange on the Big 10 Network YouTube Channel.
Final Thoughts on the Heavyweights
My assessment after watching both of these guys on their feet: I need to check the rule book as I didn't think Heavyweights were allowed to do some of the things their doing. On a more serious note, it reminds me of the activity levels you see in a Geno Petriashvili (GEO) vs. Taha Akgül (TUR) match. And, they are also both methodical and surgically precise in their efforts on their feet. In other words -- I can't wait for this party to get started.
Parting Thoughts
Like most would say and the 3DWS HCR Rating indicates,
The front-runners to win the Hodge Trophy are Zahid and Spencer
Vincenzo and Gable as finalists also makes a lot of sense
This leaves Glory & Mueller out (assuming Spencer is a Finalist)
This also puts Nick Lee, Kollin Moore, and Ryan Deakin on the outside looking in, but I wouldn't rule any of them out as finalists if something happens to the current top 4
What about Parris & Kemmerer you ask?

Both have Hodge Blemishes at this point
Parris is lacking the past credentials from the National Tournament
Kemerer got just his second pin of the season this last weekend -- not that he couldn't get more Hawkeye fans, but it's a primary Hodge Criteria and I'm just speaking of things as they are now
But ... if either of them come through their respective gauntlets unscathed, I, for one, hope this pushes them into consideration as a WIN-Magazine Hodge Finalist.
In order words --- we have a lot to look forward to as fans as the March towards Minneapolis rumbles on.