A long time ago in a galaxy far away (November, 2019), I interviewed Seth Gross. I was planning to post this mid-season as the Hodge race began to heat up. Then Seth fell out of Hodge contention and I, claiming to have gotten busy, never posted the interview. So, now that's it's summer and I'm cleaning house around the 3DWS website I figured it's about time to post my notes from the Utah Valley vs. Wisconsin dual meet and my meeting with Seth. I also have some notes from a brief interview with Will Edelblute, a redshirt Freshman at 125 lbs for Utah Valley.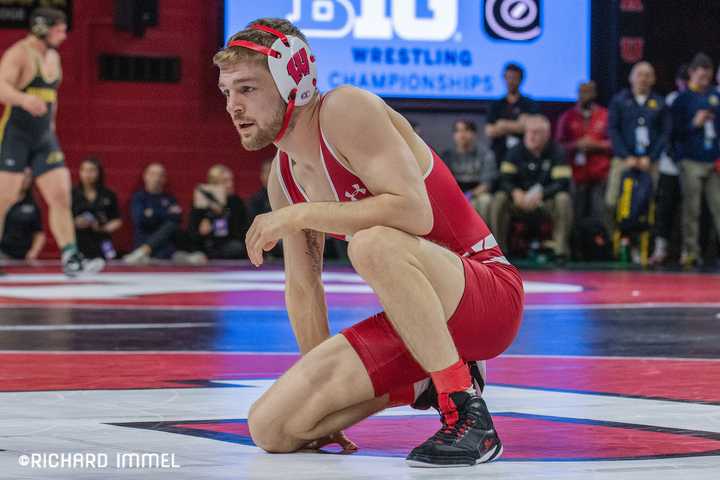 Photo by Richard Immel - Seth Gross - the calm before the storm at the 2020 Big Ten Tournament
The Seth Gross Interview at Utah Valley
If you prefer to simply jump to the questions I asked Seth, feel free. But, I'll start with some notes about the dual meet itself. Wisconsin did win the dual 31-13, but that wasn't my main focus for the day.
The Dual - Badgers vs Wolverines in Utah Valley - November 23, 2019
The occasion, a dual meet on 23-Nov-2019 in Orem, Utah between the Wisconsin Badgers and Utah Valley Wolverines. It was my first time on press-row, and it was phenomenal. You know what else is phenomenal ... Wolverine vs Badger Animal Battles (disclaimer: this also includes Honey Badgers, which are primarily African animals, and so probably not the true mascot of the Wisconsin Badgers). Setting animal kingdom battles aside for a moment, I'll get back to the dual and providing some information on Seth Gross.
Seth is a 2x National Finalist for South Dakota State University (SDSU). Seth was a National Champion and Hodge Finalist for the Jack Rabbits in 2018 after redshirting at Iowa in 2014-15.
It was the 2nd time I've seen Seth Gross wrestle in Orem. I also had the pleasure to watch him in January, 2018 when he wrestled for SDSU. In that 2018 match, Seth wrestled in dominating fashion against Durbin Llorin, a then redshirt freshman for Utah Valley, capping off the performance by getting a pin at the end of the 1st period.
The Match
This time around Seth was once again dominant. He wrestled a high-quality opponent in Taylor Lamont, then in is redshirt Sophomore year. Lamont, who had just pulled his Olympic Redshirt a few weeks earlier, is a 2016 Junior World Bronze Medalist in Greco and had just competed in Greco at the U23 World Championships in Budapest.
The first period was fairly evenly contested, with Gross gaining the upper hand via a quick first period takedown and Lamont conceding a penalty point from stall warnings. In the 2nd Lamont got a takedown after Gross chose bottom and escaped. But, Gross escaped quickly and then took Lamont down a 2nd time. This looked dangerous right from the time they hit the mat.
Then it happened. Gross hit a roll-through tilt at just after 31.50 of the Utah Valley YouTube Dual Meet video for 4pt nearfall right at the end of the 2nd period. At this point it felt like Lamont's chances were limited. Seth performed this against Lamont, an accomplished Greco wrestler, while Lamont was almost completely flattened out, i.e., while he was in a par terre defensive position, although admittedly, Seth had managed to gain nice wrist control. Seeing the roll-through tilt live reminded me of Ed Ruth's Skull Crusher cradle, but in a tilt version -- it was awesome.
Gross went on to complete a Major Decision by a margin of 12-3.
Seth Gross' Skull Crusher Tilt - It looked a little more skull crushing from my angle, but impressive from any angle to say the least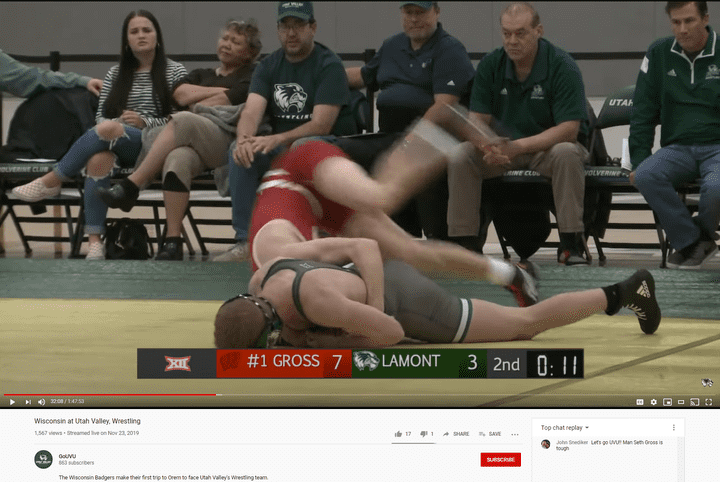 Ed Ruth's Skull Crusher Cradle - Yeah, it's a Pretty Slick Move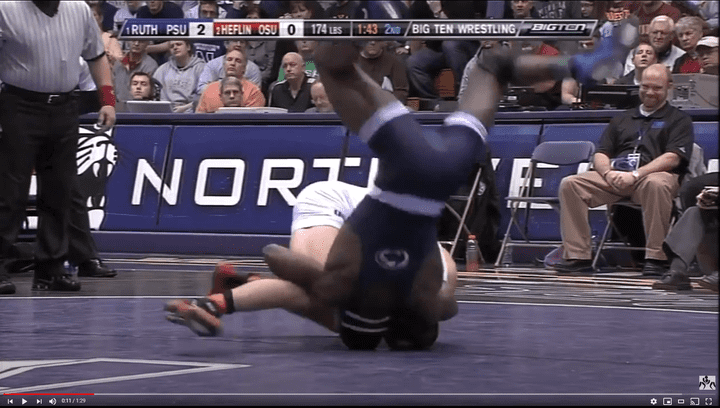 The Interview
This is an old fashioned interview with no video or pictures, btw, so enjoy, or don't enjoy. The quotes are not exact, but transcribed from notes I took during the interview. That's why I said, old fashioned and not old school. Old school would have been with a tape recorder or something.
Do you scout other wrestlers?
No. Sometimes the coaches will give me a few things to look out for, but I typically just focus on my game plan and getting to my moves.
Do you have any pre-match routines that help you prepare for competition?
I like to stay as relaxed as possible. Then, shortly before my match, I like to get a sweat on and burn out my lungs. I'll sprint and run through some hard stance and motion to get there. Then I return to calmness and take time to pray. That helps quite a bit for my mind to free and clear when I start the match.
What are your last thoughts before stepping on the mat or before the whistle blows?
I try to keep my mind totally clear, and have trained myself to do that. It works well for me. I able to be totally clear of thoughts when the match starts.
Craziest mid-match thought(s)?
Not a ton of thoughts as I'm able to maintain that focus I talked about and just wrestle, but I do have odd songs pop into my head from time to time.
How frequently & how long did you train when you were in youth wrestling and even into middle school?
About 3x a week, sometimes 4. On the other days or at certain times of year I joined in on other activities with friends in the neighborhood or in other sports. So, I kept things pretty light in the early years. Things got a little more serious after middle school and into high school.
Have you hit plateaus or times in your career when you didn't want to wrestle? And, if so, how did you get through those times?
As a youth I struggled after losing sometimes. My parents helped me through that and sometimes gave me time off from wrestling, which helped. And even into college when I noticed I was hitting some challenging times, finding moments to take a little time off always helped. You can't do it in-season in that way, but during the off-seasons when I did this, I always came back with renewed focus and sometimes a new approaches to my wrestling.
Any tips for pushing through to new levels in one's wrestling?
Do lots of different moves in practice and don't worry about getting wrecked while your learning those new moves. Just figure out what works and what doesn't, which means you have to fail a lot as you grow and perfect your moves. Just keep trying those moves with different variations and failing at those attempts in practice situations. Taking tips from coaches as you're learning will help you learn quickly as well.
For this answer Seth really lit up and went into, what I would classify as coach/camp clinician mode. So, for wrestlers out there trying to improve, this could be a key area for you.
Any question you wish folks would ask you, or something you'd like to tell young wrestlers and fans?
Faith is a huge part of my life. It's helped me through life's many roller coasters and helped me come through them stronger. It also reminds me that I'll still have God after wrestling, so it's an anchor in my life and helps guide my decisions. It really keeps me on solid ground in all that I do, so I love to talk about my faith.
Anything you're known for on the team?
Sometimes being too calm before matches, or guys are worried about me being too calm --- oh and I'm famous for losing my headgear. I've got several teammates and our manager who have helped me find my headgear at one time or another.
The 2019-20 Season and Hodge Contention
Seth remained a top-ranked wrestler at 133 lbs throughout the 2019-20 season, finishing the season with a 27-2 record and a 65% bonus rate. His losses on the season came against Austin Desanto (at their dual meet) and Sebastian Rivera (at Big Tens). He defeated both of those wrestlers at Midlands.
Although his losses took him out of Hodge Trophy contention in the 2019-20 season, it was still a pleasure to meet him and learn a bit more about him as a person and his approach to wrestling. It was also awesome to see his style of wrestling again in person.
As you might know, Seth is a scrambler. When looking for pictures from the 2020 Big Tens by Richard Immel, about 90% of the photos from Seth's matches were of one scramble position or another, like the one below. I picked the title shot, because I remember seeing Seth use that position from time to time in matches. It seemed like a bit of a settling technique for him and reminds me of Jordan Burroughs' sock adjustment.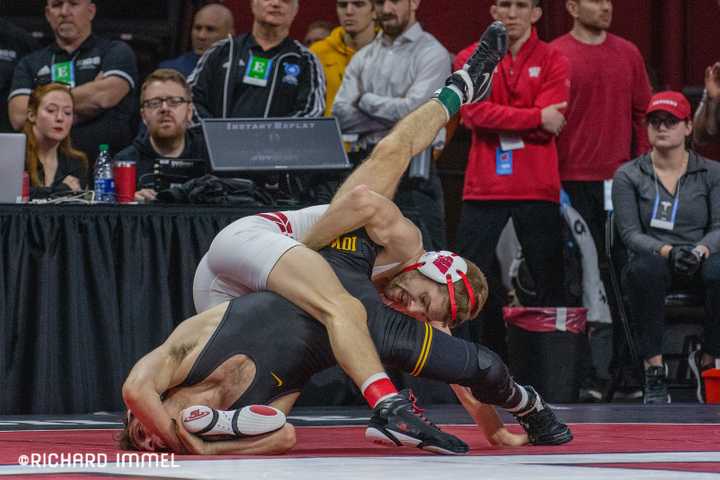 Photo by Richard Immel - Seth Gross and Austin Desanto in a scramble position at the 2020 Big Ten Tournament
The Second Interview with Will Edelblute from Utah Valley
I didn't really have an angle on a 2nd interview. No other wrestler at the dual meet was in contention for the Hodge Trophy, which is the primary coverage we currently provide at 3DWS.
But, when the Media rep for Utah Valley asked, I thought, I'd love to interview a younger, newer wrestler. A wrestler on the other end of the spectrum so to say. I asked if I could speak to an impressive wrestler - Will Edelblute.
The Match
I had seen him battle for the starting spot at the intra-squad dual a few weeks earlier and seen him wrestle really tough that day against Wisconsin. The 9-3 decision for Michael Cullen from Wisconsin in their 125 lbs bout doesn't due full justice to Will's effort in the match. It was 2-2 going into the 3rd period, but Will gave up a 4pt nearfall after a reversal to put himself in a deeper hole than he could come back from. He escaped after the nearfall, but couldn't convert a takedown to score more points.
Will Edelblute vs. Michael Cullen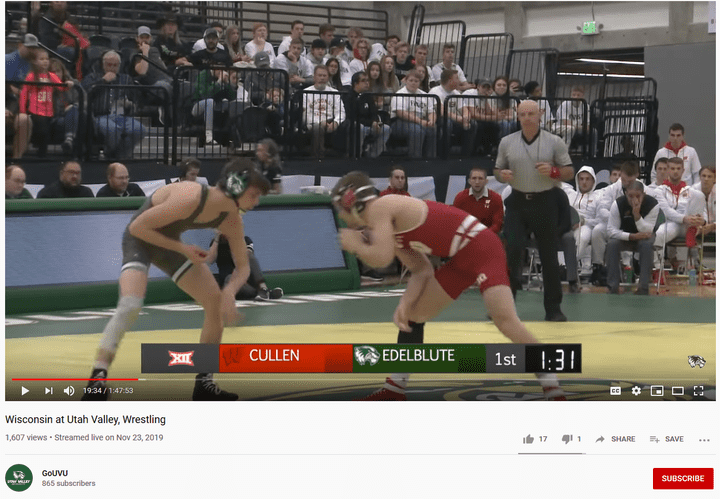 Will Edelblute in a scramble position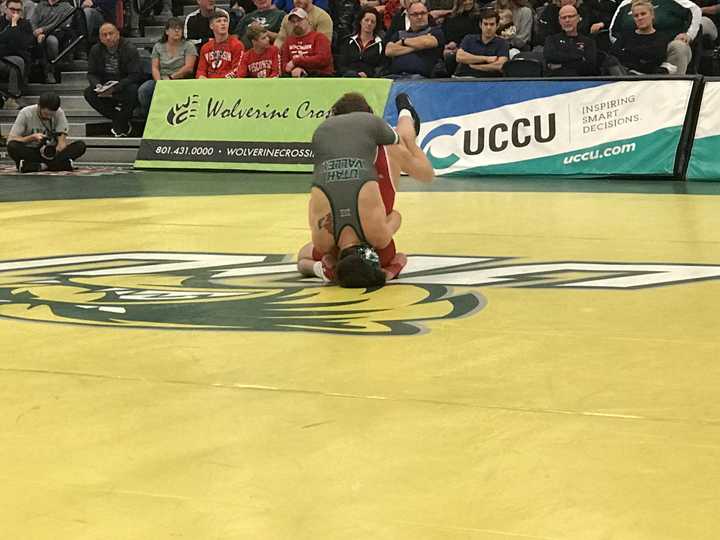 The Interview
How has the transition to college been?
The competition is at another level in college. The intensity in the room is unlike anything I'd seen up to that point. And, guys' quickness and speed at this level is impressive.
You have a brother on the team. How has that been?
That has been great. The 1st year down in Orem was a little tough, being away from home and all. But this year has been awesome to have him around. Sam is a bit bigger, but not by much and is red-shirting at 133 lbs this year. It's fun to battle with him in the room as well.
In doing research for this article I learned that there is at least one other Edelblute brother, named Alex. Alex was an Idaho state-runner up in 2018, the same year both Will and Sam repeated to become 2x Idaho State Champs.
This was your 1st Dual as a Wolverine. How was the day?
I was a bit nervous in the morning, but was the day went on it turned to excitement and it was awesome to go out there. It wasn't the outcome I was looking for, but all in all it was a good day.
How did you choose Utah Valley?
I got connected with Utah Valley via the Orndorffs. They are from Spokane and we are from Northern Idaho [near Coeur d'Alene]. We saw each other at tournaments and camps in the area and got to know each other. They encouraged us to take a look at Utah Valley. And it worked out.
Since the Interview
Tanner Orndorff has graduated. He was a 3x NCAA Qualifier for the Wolverines, but did not qualify for the national tournament in 2020
Tate Orndorff, who wrestled an exciting match against Trent Hillger that afternoon has since announced that he'll transfer to the Ohio State Buckeyes for the 2020-21 season. He was a 2x NCAA Qualifier for the Wolverines and is entering his redshirt junior season
Both Sam and Will Edelblute are on the Utah Valley roster for the 2020-21 season
The Wrap-up
Well, my foray into conversations with real humans was enjoyable for me, but probably needs some work. Being on press-row and talking shop with folks down there was fun, especially the UVU Video guru (I think he has a real title, but I like video guru) - Ben Schroeder. A lesson learned is that I should have interviewed coaches before the matches. Get their insights and thoughts. I should also invest in a tape recorder (or figure out how to use an iPhone as a tape recorder or even as a video recording device - such a novel idea). And, take pictures of the folks you're interviewing or simply video the conversation, like, you know, a journalist.
Should I stick to stats and numbers geekery? Possibly, but we'll see how things go. I may be back for more. Speaking of stats, check out Seth's 2018 numbers below or on our hodge stats pages.
Seth Gross - 2018 Hodge Finalist Numbers
As you will recall, Seth Gross lost 1 match in the 2017-18 season. The loss came at the hands of Bryce Meredeth from Wyoming. This was a super match of #1 ranked wrestlers at 133 lbs and 141 lbs. Seth wrestled up at 141 lbs in the Dual on January 18, 2018 in Brookings, South Dakota.
Seth's Record and Falls Data from the 2018 Season
| Record | Stats | Falls | Stats |
| --- | --- | --- | --- |
| Wins | 29 | Falls | 12 |
| Losses | 1 | Falls in 1st Period | 8 |
| Majors | 5 | Fall Rate | 0.400 |
| Tech Falls | 7 | Falls vs. Ranked | 1 |
| Falls | 12 | -- | -- |
| Bonus Rate | 0.800 | -- | -- |
Seth's Dominance and Quality of Competition Data from the 2018 Season
| Dominance | Stats | Quality of competition | Stats |
| --- | --- | --- | --- |
| Dominance Rating | 4.73 | Wins vs. Ranked | 9 |
| Average Match Length | 4:46 | Losses vs. Ranked | 1 |
| Full Length/Overtime Matches | 12 | Bonus vs. Ranked | 5 |
| Finish Rate | 0.633 | Pins vs. Ranked | 2 |
| PDI (out of 22) | 14.9 | Pins vs. Ranked in 1st Period | 1 |
| Pts / 7 Minutes Wrestled | 15.7 | Win % vs. Ranked | 0.900 |
| TD / 7 Minutes Wrestled | 3.13 | Bonus % vs. Ranked | 0.500 |
| Xs on Ft / TD / Opp TD | 99 / 64 / 19 | -- | -- |
| Takedown Likelihood | 0.646 | -- | -- |
The Pictures
Here are a few of the additional photos I took on the day.
Lockhart Arena looks good with Mats On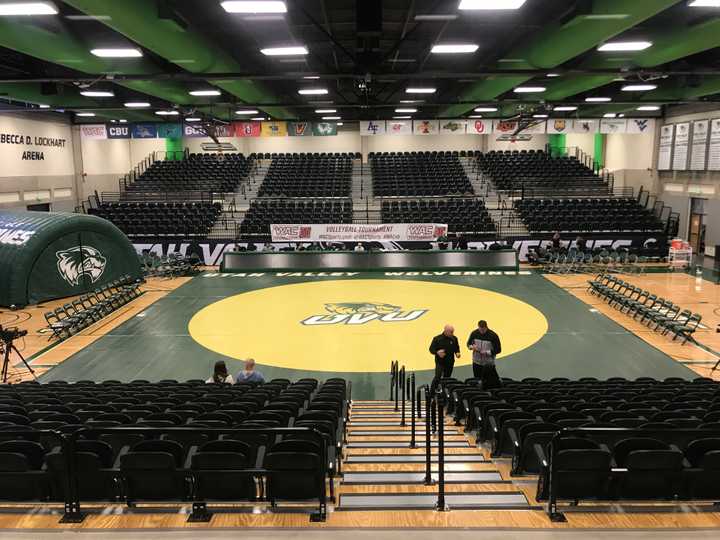 The Ceremonial Hand Shake before the Battle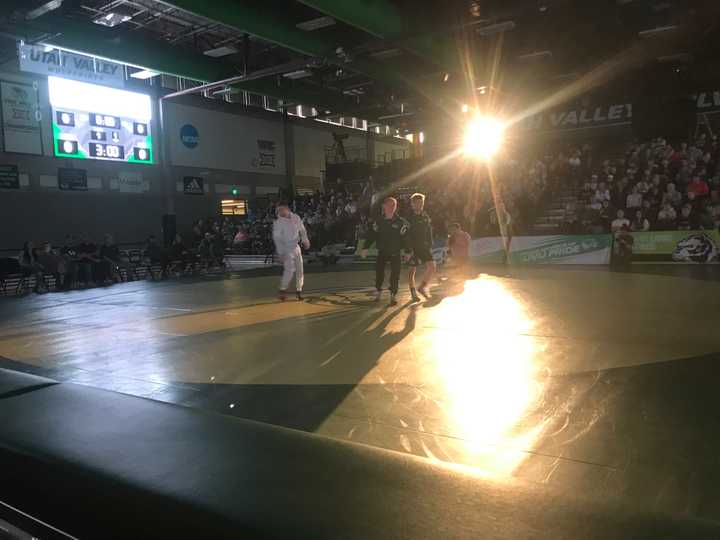 Hey Look - It's Me - I wonder who's wrestling?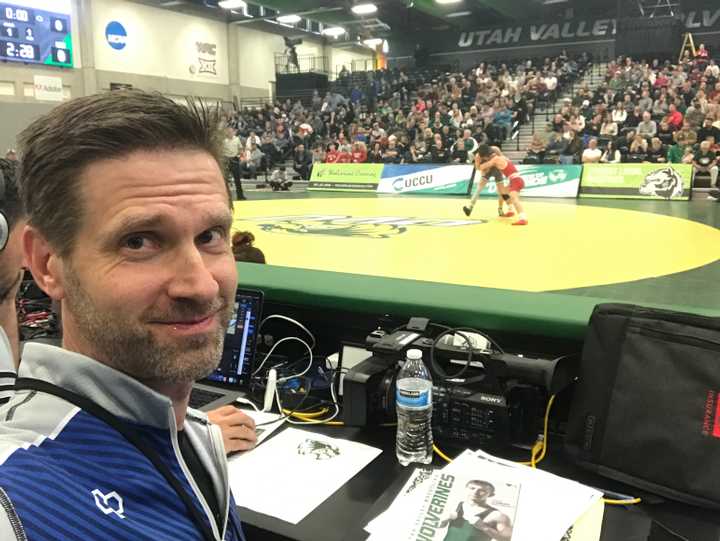 Utah Valley Wrestling Coaching Staff and Wrestlers on the Bench during the Dual