The regular season came to a shrieking halt with some unfortunate news for Zahid Valencia. Where do the other 2020 Hodge contenders stand?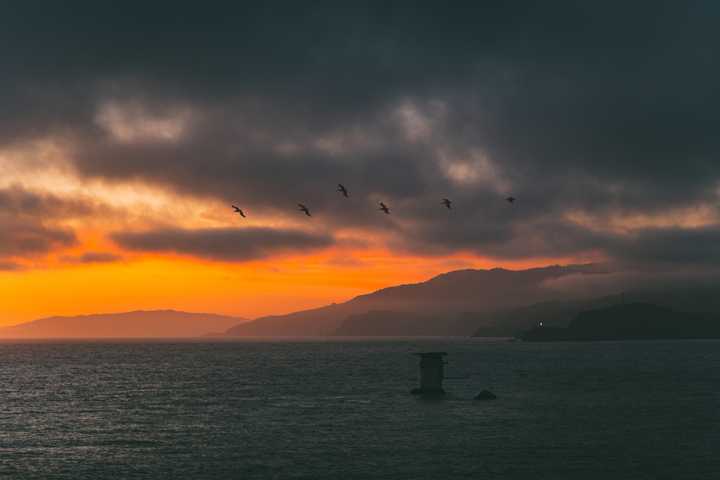 Photo by Saksham Gangwar - Birds at Sunset Above Water on Unsplash
2020 End of Regular Season Hodge Contenders
The Hodge Criteria
The Hodge Criteria per WIN-Magazine, includes: wrestler's record, number of pins, dominance on the mat, past credentials, quality of competition, sportsmanship/citizenship and heart.
The Hodge Criteria in Numbers - Hodge Contender Rating (HCR)
At 3DWS we've created a Hodge Contender Rating (HCR), which analyzes the WIN Magazine criteria in numbers and predicts the top 4, i.e., the hodge finalists, and the order in which they would end up in voting.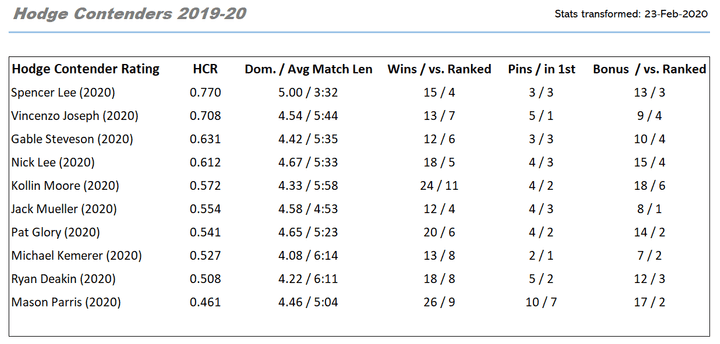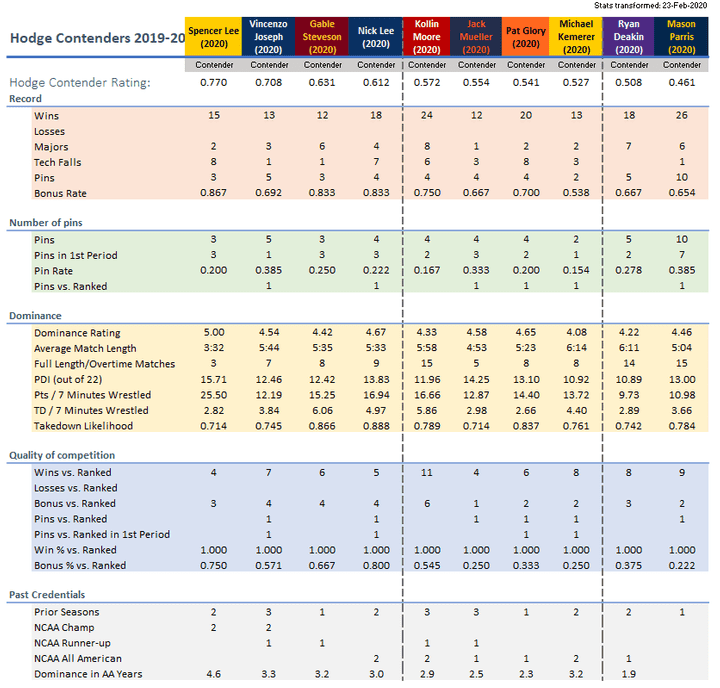 Big Changes at the Top
I haven't been doing this that long, but I've been a fan for decades and a coach for several years. As I gather stats for possible contenders I start building an attachment to the wrestlers and start rooting for them. I see the amazing stats, some of their close wins, the tremendous skill shining through in their stats. I also end up watching a fair amount of video on the guys. The result: when a contender loses and falls out of the hodge trophy hunt, I inevitably have a hard time saying good-bye.
That is also the case here with Zahid. It's tough to see him go. As a fan, as someone with a coaching background, as a father, and just generally as a another human on this planet, I wish him well and further success throughout his life. Hopefully this is just one step on his journey and there are many more highlights to come.
To the facts: Flowrestling content team members David Bray & Andrew Spey stated in their FRL Podcast on Friday: "there is still a lot we don't know". The known items they enumerated included:
Zahid is currently not in the line-up
He must be in the line-up and compete at the Pac-12 Championships for a shot at finishing out his senior season at the NCAA Championships.
I'm not sure of the likelihood of that happening, so for now, 3DWS, like Flowrestling, will leave Zahid out of the rankings.
Impact on Hodge Ratings
Projected Hodge Finalists
With Zahid's departure (until further notice), Nick Lee moves into the 4th spot per our scale, filling out the 3DWS projected Hodge finalists. Although, with Kollin Moore idle this week and Nick Lee only winning by decision against an unranked wrestler (per Flowrestling) in Sal Profaci, American, I'm sure the conversation is not over yet.
Speaking of close wins against unranked opponents. Sal Profaci, the former Michigan Wolverine, has racked up a 25-7 record for the Eagles this year, and is sitting with a #20 rating on WrestleStat. Also of note, Sal has been pretty close to top guys all year, including these close matches:
3 - 2 TB-2 loss to Real Woods, Stanford, back in November
2 - 1 TB-2 loss to Josh Heil, Campbell, at the Midlands
3 - 1 SV-1 loss to Zach Sherman, North Carolina, also at the Midlands
Can Anyone Give Spencer a Run for his money
Up until now most considered this a 2-man race between Zahid and Spencer. Is there anyone out there who can truly contend with Spencer, assuming Zahid is truly out of the race?
We tweaked the Hodge Contender Rating (HCR) this week consider past credentials from a dominance perspective as well. That Moved Kemerer up to 8 and widened the gap between Spencer and Vincenzo just a bit. And, although Spencer has a higher bonus percentage against ranked opponents, Vincenzo has faced more ranked opponents and been impressive in his victories against them, both from a dominance and from a strategic perspective. Assuming Vincenzo becomes a Hodge Finalists, voters may end up favoring these types of factors as well as the fact that Vincenzo is a Senior, when making their decision.
How close is the gap for the Remaining Contenders
Ryan Deakin faced Justin Ruffin, SIUE, who has a 22-7 record and a #18 rating on WrestleStat. Justin gave Ryan a run for his money this weekend. It came down to penalty points awarded. Both conceded escapes to their opponents. Ryan gave up 3 cautions and thus 1 penalty point to Ruffin. Justin in turn gave up three stall warnings and thus 2 penalty points to Deakin.
Michael Kemerer continued to impress this weekend, getting another bonus win against a ranked opponent in Joseph Smith, Oklahoma State. His ability to finish shots against tough defenders has been put to the test multiple times this season and he continues to shine. Despite a lower bonus rate this season, he is one to watch.
Kollin Moore, while idle this weekend, sits in a good spot to leap frog other Hodge Contenders that sit a bit higher in bonus rate and dominance categories so far this season. All three, Vincenzo, Gable, and Nick Lee face some tough competition at their weights.
Parting Thoughts
Like most would say and the 3DWS HCR Rating indicates,
The front-runner to win the Hodge Trophy is now Spencer Lee
If Vincenzo and Nick Lee win out and become Hodge finalists, it will be the 4th year in a row for the Nittany Lions to have two finalists
Among the top 8, I think Gable, Glory & Mueller may have the toughest road to become finalists
That opens the door to Kollin Moore & possibly Michael Kemmerer to be considered as WIN-Magazine Hodge Trophy Finalists.
Our 3D Wrestler Stats are up to date with the regular season stats for these contenders. See how they compare to past Hodge Trophy finalists and Hodge Trophy winners. Seems like Spencer Lee is sitting in with good company in several categories we track.