Bo Nickal, 2019's WIN-Magazine Hodge Trophy Winner, has an incredibly impressive resume. We'll review some of the highlights, including the only person to take Bo down in his senior season, and the only two people to beat Bo in his collegiate career.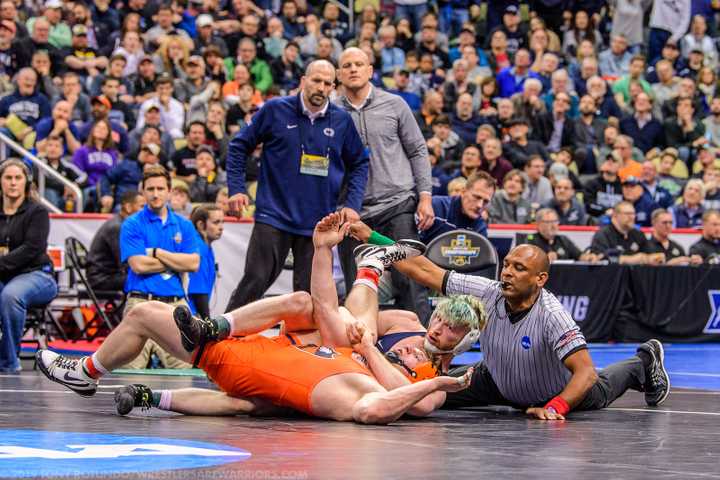 Photo by Tony Rotundo - Bo Nickal Wins by Fall in the 2019 NCAA Semi-Finals
Incredibly Impressive Resume
While you can take time to review and study the reports 3D Wrestler Stats provides: Bo Nickal's Career Stats, I thought you would also enjoy some of my thoughts on his career by going behind the numbers. I'll start by quickly reviewing how Bo Nickal capped off his college career at this year's NCAA D1 Wrestling Championships, a performance indicative of his career as a whole.
3 Falls, 2 against eventual All Americans
1 Major Decision against Nathan Traxler of Stanford, who lost to Willie Miklus of Iowa State in the Bloodround
1 Decisive decision in the finals over the #2 wrestler in the country and U23 World Silver Medalist - Kollin Moore of Ohio State (the 3rd win of the year against Kollin)
While you may think that's quite the showing, it's just the tip of the iceberg. Below I'll outline a few of the facts and figures I found interesting while reviewing Bo's career bout-level statistics.
Behind the Numbers
Losses - Bo has lost to only 2 wrestlers during his college career
2016 - Nate Jackson (2x AA and 3x National Qualifier from Indiana) in their Dual, with two exchanges where Bo almost scored takedowns in the third
2016 - Myles Martin National Finals - This was an explosive moment at the National Tournament in Madison Square Garden and is a reminder of how exceptional Myles Martin is as a wrestler
2017 - Myles Martin in the Big-10 Tournament - In the Semi-Finals. Sammy Brooks beat Myles Martin in the finals and Bo went on to beat TJ Dudley for 3rd Place. Just one indication of how crazy the 184 weight class was that year
Conceding Nearfall Points - Bo Conceded Nearfall points only 3 times and to only 2 wrestlers, all during his Freshman season
Myles Martin 2pt NF in their dual as a Freshman. Bo won the match
Nate Jackson 4pt NF their Dual. This was one of Bo's 3 losses
Myles Martin 4pt NF in the National Finals as a Freshman
Mash-up of Numbers
Bo Conceded 4 reversals in 4 years while working on top, none as a Junior or Senior
Bo Never Conceded a Riding Time Point
After his Freshman year ... Bo conceded only 9 takedowns with only 1 coming during his senior campaign
Getting Ridden Out at the End of a Period
Bo was taken down and "ridden out" at the end of periods only 3 times after his Freshman Year (2x happened at the 2017 Big Ten Tournament)
2017 - Big Tens - Myles Martin (AA - 5th). Myles took Bo down in the 1st with just over 30 seconds remaining. He also racked up 57 seconds of riding time against Bo in that match, one of Bo's 3 losses in his career
2017 - Big Tens - TJ Dudley (AA - 3rd). TJ took Bo down in the 1st with an undetermined amount of time remaining. TJ escaped with just over 30 seconds, and no time was recorded for the takedown, which could have meant it happened at the buzzer (still looking for options to purchase video on that tournament).
2019 - Dual vs Nebraska - Eric Schultz (National Qualifier - Round of 16), and this one might end up being one of those trivia questions. Who was the only wrestler to takedown Bo Nickal in his senior season? And, for bonus points, in which period did he take Bo down and how long did he ride him out to the end of the period?

What I remember is watching this match and thinking to myself -- Schultz is still wrestling. It isn't super close and Bo looks totally in control, but Schultz is still wrestling!
I re-watched that match and Schultz definitely had an "attack mode" look in his eye throughout the match! He never stopped, even though it was at Rec Hall, even though it was Bo Nickal, even though ... the odds were stacked against him.
And that brings us to the third period, with Bo up 8-4. They stayed on their feet for quite some time because Eric kept wrestling (like I said). Bo was obviously still wrestling too, but Eric kept fending off his attacks.
Then, as the 3rd period was winding down and both men continued to wrestle hard, Bo went for a duck under (at least it looked like a duck under to me) and at about the same time Eric went for a shot. They collided, and Eric's momentum knocked Bo off-balance for that split-second you sometimes need to get a takedown, and bam - Eric scored two points. Then, about 1.25 seconds later (could have been .75 seconds, as it's hard to tell on the tape-delayed clock), the ref blew his whistle ending the match. And that was that.
Pins, Pin-Falls, Falls - or whatever you call them, Bo is pretty dang good at them
It's not just that Bo pins other wrestlers. It's also how, or how quickly he pins them. He's definitely attained a next level Predator vs. Prey mindset in his wrestling. To Illustrate this I'll quote Bo himself. After his semi-finals match at the 2019 NCAA D1 Wrestling Championships in Pittsburgh a reporter (I believe it was Mike Finn from Wrestling Insider Newsmagazine (WIN)) asked Bo about his ability to see pinning opportunities almost before they happen. Bo's answer is something wrestlers young and old can learn from:
"I visualize before the match just about every situation I can be in... I probably visualize 10, 12, 15 different ways to pin the guy before every match. And, most of the time one of them happens."
Pins by the Numbers
59 pins, 2nd on Penn State's all-time leaderboard
44 were in the first period
15 (of the 59) were against ranked opponents
8 (of the 15) ranked opponents became All Americans that Year
7 of the 8 opponents who AA'd were ranked in the Top 5 when Bo pinned them. The one who wasn't in the top 5 was Josh Hokit, a 5th Place finisher for Fresno State in 2019, who, by the way, gave an excellent description of what it's like to wrestle Bo Nickal on the The Inside Trip's Episode 92 Podcast.
Hit 'Em Early - Taking Bo's Final 3 Years into Consideration leaves one staggering
Final 3 Seasons
Dominance 4.99
88-1, with 1 loss to Myles Martin in the 2017 Big Ten Semis
80.7% Bonus Rate - 71 of 88 matches: Falls (51), Tech Falls (5), and Major Decisions (15)
63.6% Finish Rate - 56 of 88 matches: Falls (51) & Tech Falls (5)

38 of 88 matches, or 43.2% ended in the 1st period (all pins)
18 additional matches ended early or 20.4%

Add in an Additional 15 Major Decisions and there's a good chance your not only going to lose to Bo, but it's going to be ugly
Career Numbers
Dominance 4.77
123-3, with 2 losses to Myles Martin and 1 loss to Nate Jackson
76.4% Bonus Rate - 94 of 123 matches: Falls (59), Tech Falls (12), and Major Decisions (23)
58.5% Finish Rate - 71 of 123 matches: Falls (59), Tech Falls (12)

45 of 123 matches, or 36.5% ended in the 1st period (all pins)
27 additional matches ended early or 22%
How Has Bo Fared at the NCAA Wrestling Championships
To answer the question regarding Bo Nickal's performance at the NCAA Wrestling Championships, I took a look at his numbers by year as well as a total for Bo's career at NCAAs. As wit the rest of his career, it's down right impressive. Here's a look back at the numbers:
NCAA Championships Performance
| Year | Match Points* | MP in 1st* | Dom | Dec | Falls | TF | MD | Losses | Bonus % | Finish % | Avg Match Length |
| --- | --- | --- | --- | --- | --- | --- | --- | --- | --- | --- | --- |
| 2016 | 45-22 | 14-8 | 2.80 | 2 | | | 2 | 1 | 50.0% | 0.0% | 7:00 |
| 2017 | 44-11 | 35-6 | 5.20 | 1 | 3 | 1 | | | 80.0% | 80.0% | 4:18 |
| 2018 | 47-20 | 26-7 | 3.80 | 3 | 1 | | 1 | | 40.0% | 20.0% | 6:06 |
| 2019 | 43-10 | 42-6 | 5.00 | 1 | 3 | | 1 | | 80.0% | 60.0% | 4:43 |
| Total | 179-63 | 117-27 | 4.42 | 7 | 7 | 1 | 4 | 1 | 63.2% | 42.1% | 5:37 |
*Includes points scored during matches ending in a Fall
NCAA Championships Notes
| Year | Finals | Significant Wins |
| --- | --- | --- |
| 2016 | An epic battle, with Myles Martin scoring in dramatic fashion and winning the match | A narrow win over eventual All American Nate Jackson and a major decision over Chandler Rogers |
| 2017 | Who thought Bo was going to beat Gabe Dean. A huge win that capped a huge night for Penn State | Falls over Sammy Brooks & TJ Dudley in the Quarters & Semis |
| 2018 | Another epic battle against Myles Martin, this time with Bo scoring in very dramatic fashion & finishing the match with a fall | Decisions over eventual All Americans Max Dean & Domenic Abounader |
| 2019 | Bo ends his career with a dominant win over 5-1 win over Kollin Moore | Falls over eventual All Americans Josh Hokit & Patrick Brucki and a Major Decisions over Nathan Traxler |
In Conclusion
I hope you enjoyed Bo Nickal's college career and found it even more impressive after reviewing these stats. Bo truly reached the pinnacle of college wrestling and we wish him well in his continued career in wrestling and other combat sports.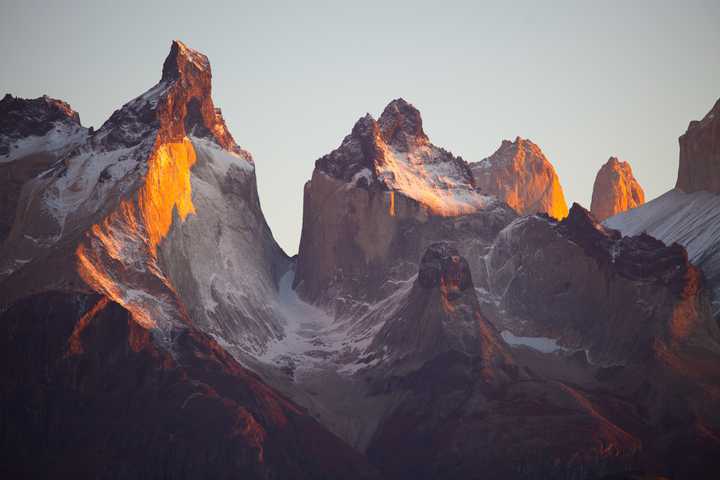 Photo by Kurt Cotoaga - Glacial Peaks on Unsplash